Subscribe to our Newsletter
We are building our Chronic Pain community.
Sign up to receive updates.
Subscribe with Facebook
OR
What were the steps leading up to your diagnosis?
I am 63-years-old, and I suffer from severe osteoarthritis, fibromyalgia, and degenerative disc disease for over 20 years.
Recently, I underwent a total hip replacement of my left hip. My symptoms included stabbing groin pain and knife-like unbearable pain radiating through my left hip, leg, and foot. I was unable to put pressure on that leg to walk.
I immediately went to the nearest ER where they did a CT scan and discovered my hip "was gone" as they put it. It was most likely due to osteoarthritis. They recommended I seek an orthopedic surgeon as soon as possible.
This was a lot for me to take on. I was scared, alone, and had no support system to speak of. "What do I do?" I would ask myself. I just felt so overwhelmed because of this awful leg pain and unable to walk.
For the interim, I was given opioids to try for some pain relief until all the insurance protocols and doctor consults were scheduled, but the medication barely helped at this point. It was a good three months before all this was scheduled.
It was also discovered that I had peripheral neuropathy causing the stabbing pain in my legs and feet. I also had fallen arches, bunions, hammertoes and getting horrible pain in my toes, and the bottoms of my feet!
What next? Why is this happening?
The pain I experienced was awful – especially at night when I was trying to sleep. That's when it was the most painful. The pain level at least a 10+.
For the three months leading up to my hip surgery, I was practically bedridden. I had to use a walker or cane to get to and from the bed, and from the bed to the bathroom. I couldn't cook for myself either.
Luckily, I was able to find a daily meal delivery service through my local senior center. They were lifesavers, let me tell you. I highly recommend anyone facing similar circumstances to contact your local senior center or a meal delivery service in your area. You don't have to be a senior to receive help.
If you suddenly find yourself in any medical situation that renders you immobile and housebound, call your insurance company – I did that. The insurance company happened to provide meals to me through a program they had where they also sent me meals, snacks, drinks, and more for two weeks at a time to sustain me. I couldn't believe they had a service like this! It's not advertised, but because I had a nurse advisor that I could contact personally 24/7, that's what I did.
By the way, my insurance is through Humana – and they have just been wonderful to me. I've gone through a lot of details about this because a lot of older adults are independent and very self-sufficient, but they live alone.
When I was suddenly faced with a medical crisis like I was, my primary care doctor, for instance – was not so helpful. Some people might not think to turn to their insurance companies especially when they're scared and confused, and a PCP doctor may or may not help you get the ball rolling (which they're supposed to do by the way).
It does pay to always be proactive in your healthcare, I found anyway.
I am now so relieved about not starving before and after this hip surgery, and I'm much calmer. I was also able to find some neighbors to check on me and help with errands. Things are coming together!
The day of my hip surgery day finally arrived. I was both scared and excited. I was hobbling around and in awful pain for three months prior. I was hoping this surgery would help the pain in my feet because it was just driving me crazy.
Well its now been five months since the surgery. I'm delighted to say it was a success. I am walking now without a walker or cane and have been told complete recovery could take up to a year.
However, the stabbing pain in my feet has unfortunately gotten worse. I've been to a podiatrist who recommended extensive surgery on both feet.
I've been given various medications to deal with the nerve pain, which includes cymbalta, gabapentin, and even lyrica. No matter what I try the pain just won't go away.
For me, I feel as if the pain medication just doesn't work. I also am trying topical pain sprays which do help but only for a short time. Epsom salt soaks, and magnesium lotion also did provide temporary relief. I also tried magnesium supplements, turmeric (herbal supplement) a spice I believe, from India, and is very good for inflammation. I open a few capsules and put it in my smoothies now.
I do feel a bit of relief I must say. But those of us on fixed incomes just can't afford to spend an extra $12 for magnesium supplements, turmeric, and pain sprays.
I know I can't, and that's when we turn back to our doctors once again for help. We have to again rely on the insurance companies, and there's just so much treatment that they cover.
What kind of treatments are helping nerve damage not related to diabetic neuropathy?
Currently, I'm searching for treatment for the foot neuropathy. I did recently attend a neuropathy seminar where this healthcare group claimed to have a proven treatment to "cure" peripheral neuropathy however they seemed to only to treat seniors and claimed Medicare didn't cover this treatment.
Even though I immediately smelled a scam I went for a consultation. The team evaluated me and found a lot of numbness in my feet and told me it would be about $6,000 to "cure" me.
What fixed income senior has this kind of money? Certainly not me! Then it only got better. They claimed if I could give them a $500 deposit they could finance the rest. I told them no one would finance me, but boy, were they insistent. Honestly, I found it entertaining!
Sure enough, I was turned down. Well, that was that, and the doctor escorted me out the door! On my way out I noticed a few elderly patients getting treatment with what looked like a tens unit taped to the bottom of their feet!
My takeaway was a medical group possibly taking terrible advantage of seniors in chronic severe pain desperately seeking any relief. A tens unit costs anywhere from $29.99 to $299.
I apologize for telling you my long journey through my daily physical challenges through severe, chronic pain. I know some of you may be facing some of the same issues: living alone, sudden isolation, no assistance, what to do about it, asking for help through doctors, insurance companies, neighbors, helpful resources.
I hope some of these issues that I went through may be able to help even one person should my story be published.
What lifestyle changes have you needed to make?
Nutrition changes. Eliminating sugar, eating more of a Mediterranean diet along with more fruits and vegetables. Another lifestyle change I've made is walking 30 minutes every day, practicing meditation, and getting involved in my local senior center.
I have also had to learn how to pace myself on particularly painful days.
What lifestyle changes have you needed to make?
Nutrition changes. Eliminating sugar, eating more of a Mediterranean diet along with more fruits and vegetables. Another lifestyle change I've made is walking 30 minutes every day, practicing meditation, and getting involved in my local senior center.
I have also had to learn how to pace myself on particularly painful days.
I have had to learn how to pace myself.
Who has been there for you? How?
My friends at LiveSupportGroup.com. It's an online chronic pain support group that anyone can join.
We meet three times a week on a webinar and talk about our challenges, treatments, medications, and sometimes we have guest speakers such as doctors whom we can personally talk to and get questions answered.
It's all free to join and they gave me back the quality of life. It's an amazing group!
What accomplishments are you most proud of?
Learning coping skills in dealing with my body deteriorating and just never giving up and still having my sense of humor through it all!
What advice would you give to someone living with chronic pain?
Never give up on yourself. Try to surround yourself with positive, supportive people, even just two or three. Love yourself because you are so worth it. Laugh whenever you can! Belief in a higher power.
About Debbie Oliver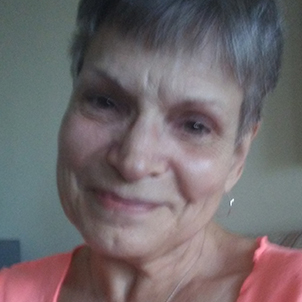 I'm a lovely, kind, compassionate, strong woman who loves dark chocolate!
---
Up Next