Erin
About Erin
I'm a Canadian lady who met her British husband after moving to England to teach, several years ago. I stopped teaching to do a MSc in Psychology, but my health means that I'm not able to work right now.
I have multiple conditions, including: Klippel Feil Syndrome, herniated cervical discs and associated neuropathy, asthma, complex migraines, gastroparesis, and a few other issues being investigated.
Despite all of that, I love life. I enjoy learning new things, reading, writing, working on creative projects, listening to podcasts, visiting new places, my work in the chronic pain/illness community, and spending time with people I love.
Erin's
Work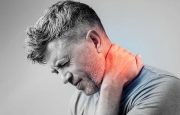 Muscle pains and sprains happen, but when muscle pain continues for three months or more, it becomes chronic muscle pain.